At Vertex Air Technologies, we believe that to achieve 100% success in all that we do, it is important to build infrastructure that equips the needs and demands of the clients, thus enhancing the quality of our service.
To make this possible, we have created a production unit in the Pashamylaram area of Medak district in Telangana. Vertex Air owns and operates this facility and is limited to our services alone. This campus covers an area of 1 acre of land, and the workshop holds over 30,000 sq. ft. 
This facility is unique because it is one of the largest manufacturing units in South India, with the most advanced technical set-up. This unit is operated by optimizing technology and software with integrated CNC manufacturing equipment. This helps reduce manual efforts, thus reducing the turn-around time and the chances of error.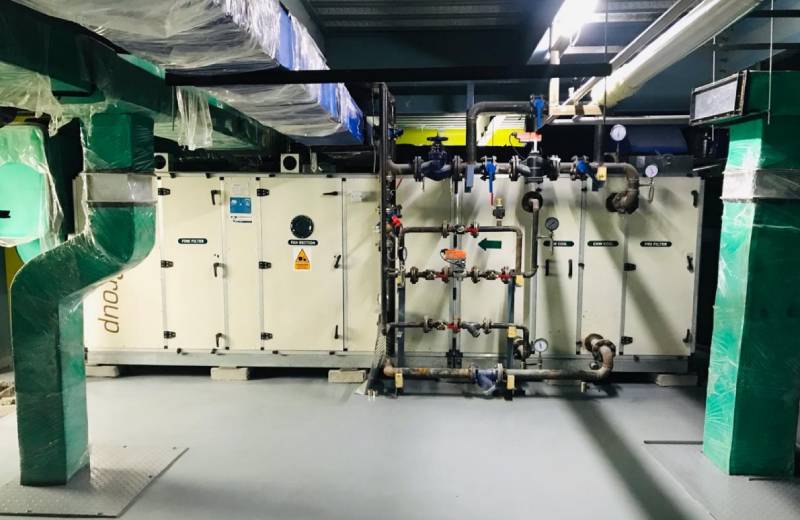 The facility can now produce about 100 AHUs per month per shift. This ability helps produce approximately 1200-1500 AHUs in a year. 
It is our responsibility to keep our facilities independent of any external factors. Hence, we have created independent manufacturing sections to produce cooling coils and filters. We produce 1000 cooling coils each year and approximately 2500 filters of all microns, including HEPA filters.
The team comprises experienced engineers as well as those with technical expertise. The employees working in the production unit follow a four-layer system, which includes pre-production analysis, production procedures, strict quality checks conducted by our in-house QA department, and final testing conducted by the installation engineers. The reason behind following this complete cycle is to ensure that the production is flawless and error-free.
This unit of Vertex Air intends to set a par for excellence by manufacturing top-quality products in the niche HVAC and Clean Room technology market.
What makes the Vertex Factory unique?
A splendid campus of about 1 acre

Individual production units for the manufacturing of Ahu, Cooling Coil, and Filters

Completely automated factory with state-of-the-art machines

Separate area to display produced models

Separate area for post-production quality check

A team of skilled and efficient engineers, technocrats, and production experts

A warehouse dedicated to the storage of raw materials

Manual and digital security systems are maintained 24/7

Use of the latest Computer Numerically Controlled (CNC) and Numeric Controlled (NC) machines for accuracy and efficient production

Use of the latest technology and advanced controllers and PUF filling bed two-day light (DL) hydraulic press aids in making sandwich PUF panels.